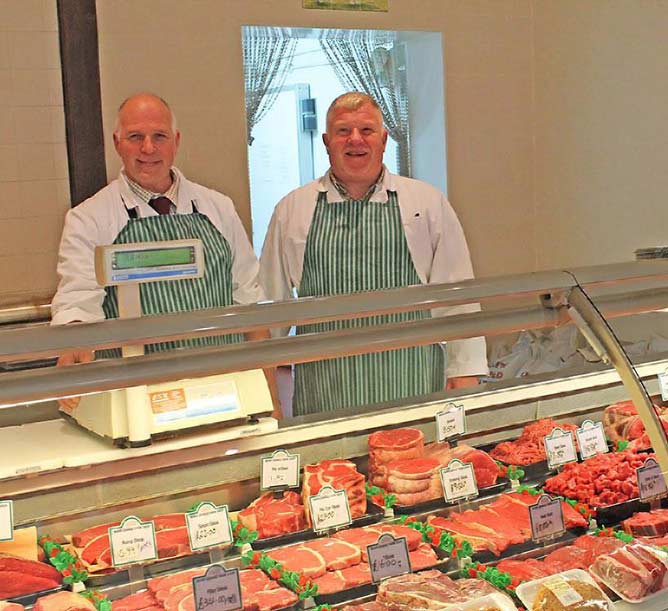 Butchers Shop
We love what we do and we love hand crafting the best cuts of meat for our Butchers shop from a selection of responsibly reared, British Beef, Lamb & Chicken – not forgetting our own home-bred Pork from our farm in Doncaster.
All of the meat we select from our Farmers comes to us whole and by the carcass, meaning our team of butchers can tailor the Joint or Steak you require exactly to your tastes. The result is less waste and absolutely no plastic packaging when we receive the animal.
Ian, owner and Butchery Manager, is the man to speak to when it comes to choosing the right cut of meat. Anything from your traditional Sunday Roast Joint to the best Pulled Pork Shoulder, you can be sure he will help you out with his unbridled enthusiasm and humour.
We pride ourselves on our Home Smoked & Dry Cured Bacon of which we have our own Smokehouse using primary and natural flavours. Ian handcrafts sausages each morning, ensuring the highest meat content at 95%, the rest being made up of herbs, a touch of water and rusk – he also makes Gluten-Free options and with over 10 different flavours to choose from, there's something to please the whole family.
Your Local Farm
Shop Butcher
As well as stocking our butcher counter with the popular cuts of meat, we also offer the option to buy locally reared whole and half pigs untouched, for those wanting to use the whole of the carcass. These must be ordered in advance and can be discussed by contacting us and our Butchery team directly on the telephone number provided and are available for collection only.
The pigs from our farm are selected for their uncompromising quality and finish and are all Red Tractor Farm Assured. They are fed from the land which we farm and harvest right here in Marr. They are then hand selected and sent to a small, family-run abattoir only 8 miles away.
Alongside the Farm Shop, we still operate our Wholesale Delivery business and run pork into Doncaster, Sheffield & Barnsley Market each week. We also service small Butchers Shops in the surrounding areas.
For all Wholesale/Retail enquiries please contact Ian or Philip on 01302 783930 or email us info@marrgrangefarmshop.co.uk