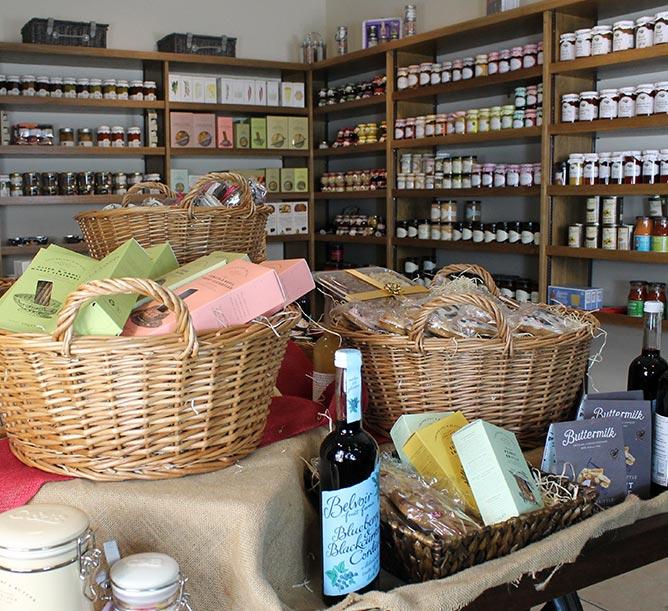 Farm Shop
At Marr Grange Farm Shop we sell locally sourced and homemade produce from Doncaster, the surrounding areas of Yorkshire and the very best suppliers throughout the UK. Supporting local farmers, growers and producers is part of our ethos and so when it comes to items we don't produce here on the farm, why would we look any further than what's right on our doorstep.
We buy our cheese from cheesemongers in the Yorkshire Dales. Potatoes from farmers in Nottinghamshire and Vegetables from growers in Lincolnshire & East Yorkshire.
We support local farming families who provide our farm shop crisps including Listers Crisps, a new enterprise set up by a young family in East Yorkshire and Yorkshire Crisps a business from Sheffield, which has won awards for Excellence and Great Taste using innovative, yet natural flavours.
Marr Grange also stocks Wrendale Homewares; a company established in 2012 on a crowded kitchen table in Lincolnshire by a woman desperate to use her artistic flair to capture the glorious countryside in which we live.
Delicatessen
For our delicatessen dairy products our Ice Cream comes from Yorvale, a family-run company that has been producing ice cream for over 30 years using the finest natural ingredients and who are committed to sustainability and protecting the environment for the future generations and Thaymars in North Nottinghamshire.
We also sell Longley Farm yoghurts and use their cream to make our Quiches fresh each morning. The cream is also used to flavour the desserts and coffees in our Tea Rooms. If you are looking for the perfect drink to accompany your purchases we have an extensive range of alcoholic offerings to include Wines hand-picked and selected by our Wine Merchants in York and Beer & Cider from the famous Sam Smiths Brewery.
Alternatively we offer Gin, Vodka, Rum & Whiskey from Sloemotion, a fabulous authentic company in York and The Yorkshire Dales Distillery in Catterick, North Yorkshire who are committed to providing jobs for ex-service personnel and using only natural flavours from the Yorkshire Moors to flavour their gins.